Analysis & Forecast

Weather
Ocean
Ice & Icebergs
Other Hazards

Data

Archive Data
Digital Forecasts
Electronic Marine Charting (ECDIS)
Environmental
Extratropical Storm Surge Models
Freezing Spray
GIS
Observations
Ocean
Probabilistic

Information

Product Information
Receiving Products
About OPC

News

Search
02/23/2018 16:00 UTC: Almost all server issues have been resolved. There is still a possibility that individual products are delayed or missing. Please continue to carefully check issuance times.
Coding used in the Preliminary Surface Analysis
The Atlantic preliminary surface chart is a product prepared by the Weather Prediction Center (WPC).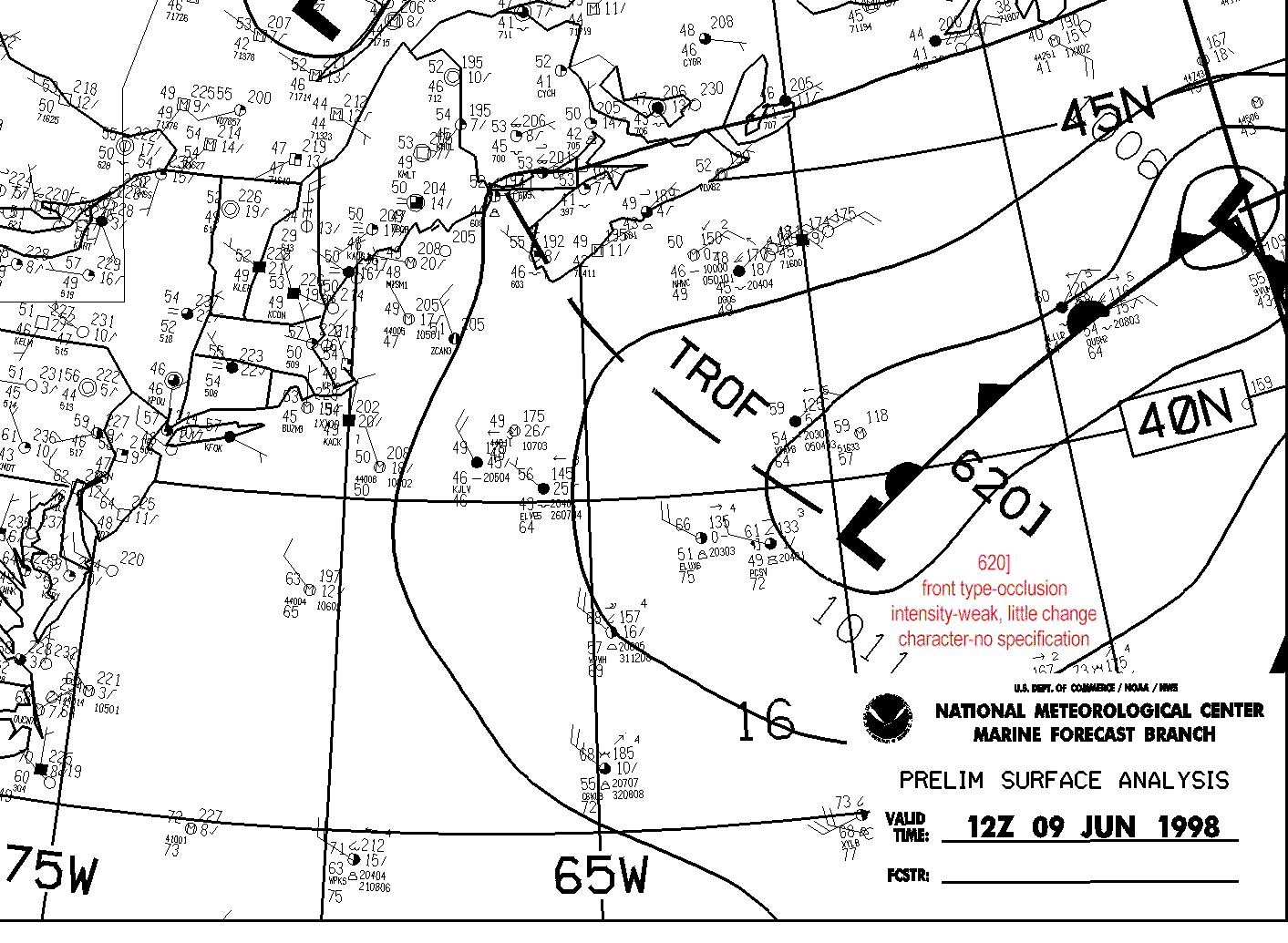 Coding for Fronts
front type
intensity
character
0
stationary
no spec
no specification
1
stationary above surface
weak, decreasing
frontal decreasing
2
warm
weak, little change
activity little change
3
warm above surface
weak, increasing
area increasing
4
cold
moderate, decreasing
intertropical
5
cold above surface
moderate
forming or existance suspected
6
occlusion
moderate, increasing
quasi-stationary
7
instability line
strong, decreasing
with waves
8
intertropical line
strong
diffuse
9
convergence line
strong, increasing
position doubtful
Coding for Pressure Features
pressure type
character
movement indicator
0
Complex low
no specification
no specification
1
low
weakening
stationary
2
secondary low
little change
little change
3
trough
intensifying
becoming stationary
4
wave
complex
retarding
5
high
forming or existance suspected
curving to left
6
area of uniform pressure
weakening, but not disappearing
recurving
7
ridge
general rise of pressure
accelerating
8
col
general fall of pressure
curving to right
9
tropical system
position doubtful
expected to recurve