Analysis & Forecast

Weather
Ocean
Ice & Icebergs
Other Hazards

Data

Digital Forecasts
Electronic Marine Charting (ECDIS)
Environmental
Extratropical Storm Surge Models
Freezing Spray
GIS
Observations
Ocean
Past Weather
Probabilistic

Information

Product Information
Receiving Products
About OPC

News

Search
| | |
| --- | --- |
| Hurricane Warnings in Effect | Atlantic: High Seas |
Get to Know OPC - LT Christy Schultz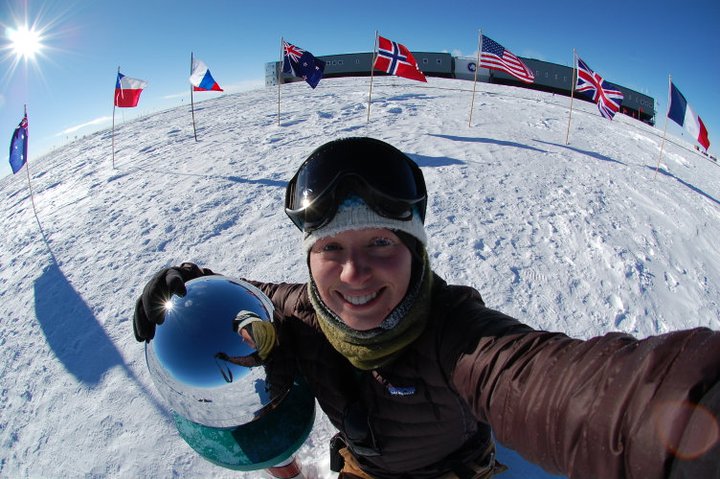 LT Christy Schultz, NOAA Corps
Technical Operations Coordination Meteorologist
Ocean Applications Branch
Ocean Prediction Center
Can you please explain your title, and describe some of your work duties at the OPC?
I am currently assigned to the Ocean Prediction Center as the Ocean Applications Branch's Technical Operations Coordination Officer. It's a mouthful to say, but it basically means I take on special projects that help create and enhance forecast tools and products. It's a great job because I am involved in many different areas of the National Weather Service and NOAA as a whole. For example, my current duties range from coordinating a study with Environment Canada regarding freezing spray forecast guidance (models), to developing a means of displaying OPC's graphical forecasts on ship navigation systems (ECDIS), in addition to mentoring our United States Coast Guard Academy summer intern. My projects and duties change daily, which keeps my work fun, interesting, and challenging.
"Assigned" to the Ocean Prediction Center - can you elaborate?
Unlike most NOAA employees, I am actually a commissioned officer. NOAA has it's uniformed service, the NOAA Commissioned Corps, comprised of 321 officers. We are responsible for the operation of NOAA's fleet of ships and aircraft. Officers rotate between sea (or aircraft) and land assignments every 2-3 years. During our land assignments, officers are essentially 'embedded' in offices throughout NOAA.
Interesting! Can you tell us a little about what led you to the NOAA Commissioned Corps? Did you do undergraduate or graduate work with meteorology or atmospheric sciences?
I studied meteorology at Penn State University as an undergraduate, and actually found out about the NOAA Corps during my sophomore year. I miraculously stumbled upon the website (www.noaacorps.noaa.gov) while looking for National Weather Service jobs and was instantly intrigued. I made NOAA Corps a career goal throughout the rest of my time at Penn State. During my last semester, I applied to both graduate schools and NOAA Corps. I was accepted into the Corps before I could even complete the grad school applications, and the rest is history.
What inspired you to study meteorology at Penn State, or sparked your interest in the weather?
My father is a pilot, so growing up my family was always tuned in to the weather. I can't remember a time when I wasn't familiar with surface analyses, the weather associated with different clouds, or ASOS observations. I finally realized in high school that I wanted to study meteorology after a summer full of severe weather experiences. Seeing a waterspout while on vacation and having my house struck by lightning both within a week probably had something to do with it!
Do you use your meteorology degree while in NOAA Corps? If so, in what capacity?
I definitely use my degree with the NOAA Corps, but not in the traditional way of most meteorologists. During my first tour in the NOAA Corps, I was an officer on a hydrographic research ship. Instead of using the meteorology per se, I used the physics, mathematics, and remote sensing aspects of the science. I found that learning how to operate sonar and analyzing bathymetric data came pretty easily with my background. My past two assignments have used my degree more directly: I worked for the Earth System Research Laboratory acquiring climatology data and I now use my meteorology in a supportive role in the National Weather Service.
Wow, widely varying fields of meteorology and oceanography! While rotating through your assignments thus far, presumably there's been some extensive travel and unique locations you've been able to experience. Are you at liberty to tell us about some of your travels, locations, and favorite places?
The best part of my experience in the NOAA Corps has been travel. During my first tour, my ship was based in Seattle but mainly worked along the Alaskan coast. My three years onboard Rainier allowed me to visit many Alaskan ports: from Ketchikan in the Southeast to Kodiak and small islands in the Aleutian islands. We actually worked near Pavlof Volcano in uncharted waters, which is currently erupting. My next assignment took me to some amazing places outside the country, but first I completed training for a month in Barrow, Alaska. Barrow is the northernmost town in the United States, and was fantastic. During my time there, the sun didn't set and I got to partake in the summer whaling festival, Naluktuk.

The pinnacle of my NOAA career so far was my one-year deployment to the South Pole. I spent one year running NOAA's Atmospheric Research Observatory at the geographic South Pole - I literally had to walk past the actual pole stuck in the snow on the way to my lab every day. Due to the location, I experienced six months of constant sunshine and six months of constant darkness, with one sunrise and one sunset. We saw temperatures that ranged from -10F in the summer and -103.4F in the winter. Without the sunshine, the aurora australis (Southern Lights) were a spectacular show.

After my year at Pole, I spent the following winter at Summit Station on the Greenlandic ice sheet. I was able to visit Iceland on my way to Summit as we staged our gear and caught our flight, a Twin Otter with skis, to station from the northern coast. As opposed to the fifty people that wintered over at Pole, there were only five of us during our Summit winter. It was fantastic. The sun actually rose and set daily (my phase of the winter was from February through May), we still had auroras, and there were few enough people on station that I was able to assist with jobs such as moving gas cylinders and grooming the skiway (snow runway) with the heavy machinery. I haven't been anywhere exotic since Summit Station and I definitely have the travel bug again!
From Barrow, Alaska, to the South Pole - quite the extremes! Do you have any persuasion or input to your assignments?
Officers do have the opportunity to request assignments and provide input. I have been very lucky so far and have received every assignment I have requested!
How much longer is your tenure at the Ocean Prediction Center?
Good question. I will likely be at OPC for another year or two, depending on the needs of the NOAA Corps and when I am needed back at sea.
Where do you see yourself in the next 10 years? Will you have to continually accept new assignments within the NOAA Corps, or once the travel bug wears off, will you be able to stay in a fixed location?
If I choose to stay in the NOAA Corps, I will continue moving to new assignments every 2-3 years, rotating between land and sea assignments. Right now I can't even imagine ten years in the future. My 2003 self would never have imagined the adventures I have had in the past ten years. The possibilities for the next ten are endless!

View all stories in "Get to Know OPC"