Analysis & Forecast

Weather
Ocean
Ice & Icebergs
Other Hazards

Data

Digital Forecasts
Electronic Marine Charting (ECDIS)
Environmental
Extratropical Storm Surge Models
Freezing Spray
GIS
Observations
Ocean
Past Weather
Probabilistic

Information

Product Information
Receiving Products
About OPC

News

Search
OPC Gridded Marine Forecasts
The Ocean Prediction Center's gridded marine forecasts are now available in the National Digital Forecast Database (NDFD).
Gridded forecasts of marine weather elements are available over OPC's North Atlantic and North Pacific areas of responsibility (AOR).
The gridded marine parameters include:
surface (10-m) wind speeds with direction (KT)
surface (10-m) wind gusts (KT)
significant wave heights (FT)
marine hazards
These elements are available at a spatial resolution of 5 km and a temporal resolution of three (3) hours out to 144 hours or six (6) days.
The Atlantic basin and the Pacific basin grids will be updated daily every 3 hours for forecast days 1-3. The update times are approximately 1:20 UTC, 04:20 UTC, 07:20 UTC, 10:20 UTC, 13:20 UTC, 16:20 UTC, 19:20 UTC and 22:20.
OPC grids for forecast days 4-6 will be updated at approximately 04:20 UTC, 10:20 UTC, 16:20 UTC and 22:20 UTC.
More information about this schedule is available at https://www.weather.gov/media/notification/scn19-69grid-issuance-timesaaa.pdf
Additional NDFD information:
NDFD posts new day 1-3 grid files 24 times per day. NDFD includes new day 4-7 grid files only for the issuances at 00 UTC, 06 UTC, 12 UTC, 18 UTC, and 22 UTC. For the oceanic domain, grid files are posted at about 20 minutes past the hour. NDFD adds a new forecast day (24 hours) once per day with the issuance at 22 UTC. Expired forecast grids are dropped throughout the day.
With this implementation, forecasts for these elements are available from NDFD in the following standard methods:
Gridded Binary Version 2 (GRIB2) files via Hypertext Transfer Protocol (HTTP) and File Transfer Protocol (FTP)
Extensible Markup Language (XML) via Simple Object Access Protocol (SOAP)
Graphics via web browser
More details regarding this service are available in the Product Description Document from the online catalog of NWS products and services. Please note the National Hurricane Center was first to distribute gridded marine products so there will be references to NHC in the documentation.
View Graphical Forecasts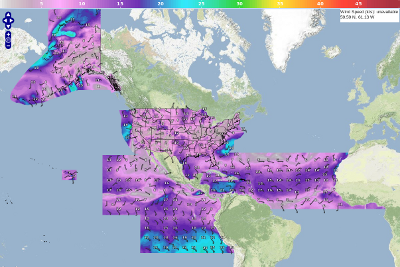 The marine forecast images are available via the NDFD graphical interface. Select the "Oceanic" option to view wind speed, wind gusts, significant wave heights, and hazards for the National Hurricane Center, Ocean Prediction Center, CONUS, Alaska, Hawaii, and Guam areas of responsibility.
Access Gridded Data
The NDFD oceanic domain covers the Atlantic, Pacific, and Arctic basins for the offices issuing offshore waters and high seas forecasts. The upper right lat, lon for this grid is: 79.99N, 10.71E. The lower left corner lies directly on an NCEP grid 204 point, which coincides with all other Pacific region NDFD grids. The lower left lat, lon for this grid is 30.42S, 129.91E.
Specific information on the NDFD grid domains, including the oceanic domain, can be found at http://graphical.weather.gov/docs/ndfdSRS.htm.
Technical information on accessing and using NDFD elements can be found at https://www.weather.gov/mdl/ndfd_info.
The GRIB2 marine data on the NDFD oceanic domain can be downloaded at the following locations (please note the source GRIB2 files use International System [SI] units):
Note: Areas of the NDFD oceanic domain that coincide with the NDFD CONUS domain are included in the CONUS grids as well. Use the NDFD anonymous FTP menu page to access the CONUS and other regional GRIB2 files.
Tools and Utilities
NCEP provides some software utilities for users who need to convert and manipulate GRIB2 datasets. Although they are not supported, they can be downloaded from http://www.nco.ncep.noaa.gov/pmb/codes/GRIB2/
Comments & Feedback
The marine elements transitioned from experimental to operational status on 6 February 2018.
Comments and feedback on the gridded marine elements are welcome at:
http://www.nws.noaa.gov/survey/nws-survey.php?code=EGOSWHSMF

General feedback on NDFD GRIB2 service:
http://www.weather.gov/survey/nws-survey.php?code=ndfd-grids

General feedback on NDFD XML SOAP service:
http://www.weather.gov/survey/nws-survey.php?code=xmlsoap