Analysis & Forecast

Weather
Ocean
Ice & Icebergs
Other Hazards

Data

Digital Forecasts
Electronic Marine Charting (ECDIS)
Environmental
Extratropical Storm Surge Models
Freezing Spray
GIS
Observations
Ocean
Past Weather
Probabilistic

Information

Product Information
Receiving Products
About OPC

News

Search
| | |
| --- | --- |
| Hurricane Warnings in Effect | Atlantic: High Seas |
Get to Know OPC - James Kells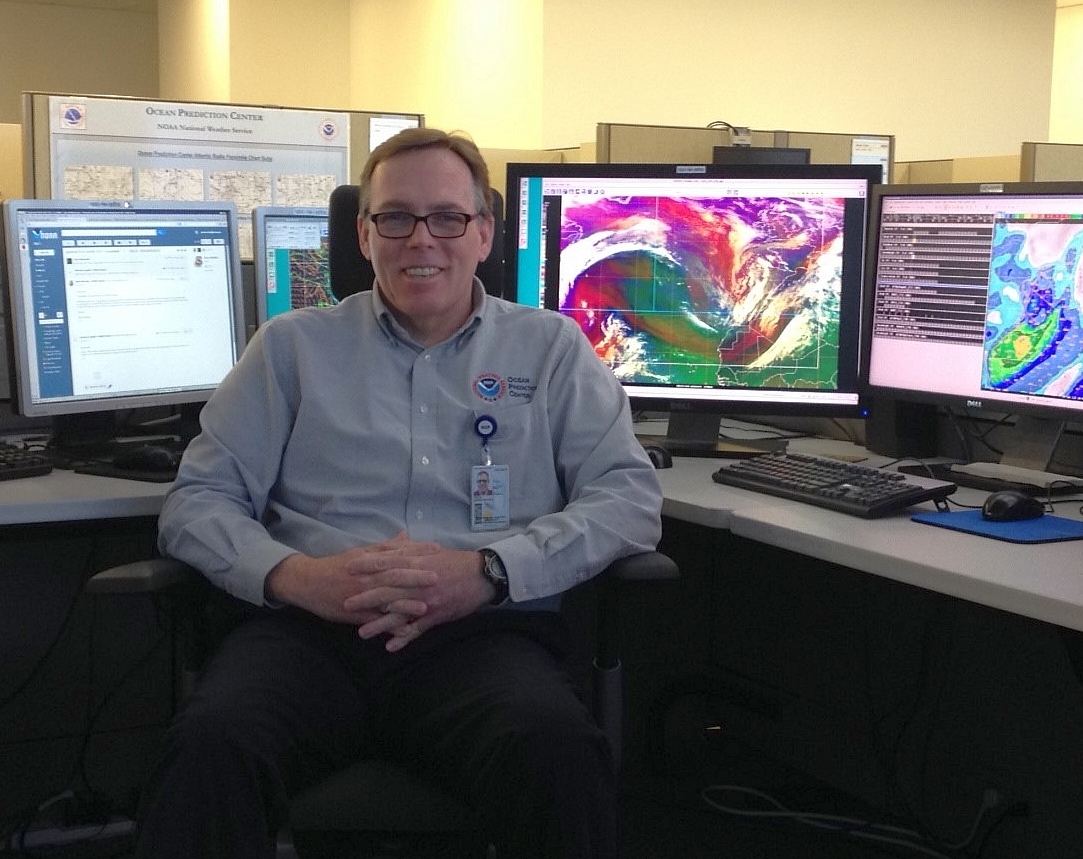 James Kells
Senior Marine Forecaster
Ocean Forecaster Branch
Ocean Prediction Center
What first got you interested in weather?
I first became interested in weather as an elementary school student. I had great interest in snowstorms that caused school to be cancelled. As a result, I would watch weather forecasts with increased frequency during the winter months. During my youth, there were two occasions I can remember when Nor'easters closed all schools for about a week apiece. The blizzard of 1978 was one of them, and I still remember the news reports with pictures of cars being stranded on highways due to the large snow accumulation.

I still enjoy snowstorms as an adult, but only if I don't have to go out in it. There have been several large storms since I've moved to my current residence, and it is always a chore to dig out of it. I also get a little nervous while driving in the snow.
Where did you attend college?
I attended school at the State University of New York at Stony Brook, and I graduated with a B.S. Degree in Atmospheric Science and Meteorology. Before that, I graduated Lindenhurst Senior High School in 1984, and then had a brief 3-semester stint as a Computer Science student at the State University of New York at Farmingdale. It was more than I could handle at the time, so I left school and entered the workforce. I eventually started a business as a self-employed truck driver making deliveries in the New York metropolitan area. As the years went by, I matured and realized that I wanted something different. I decided to return to the college at Farmingdale in 1992 on a part time basis. I fared much better the second time around, so much so that I decided to transfer to Stony Brook in 1995 because of their program in Atmospheric Science and Meteorology. I had always liked the Earth Sciences, and Meteorology seemed like a logical choice. I successfully completed the program and graduated in 1998.
Did you participate in any internships during or after college & how did it help you in locating a position after graduation.
In my senior year at Stony Brook, I completed an internship at the Eastern Region Headquarters in Bohemia, New York. During that time, the National Weather Service was upgrading from the AFOS system to AWIPS. I was fortunate because I was able to participate in the AWIPS training sessions that were being given at the office.

Aside from the general office tasks that I was assigned, I was also given several meteorological duties to perform. This enabled me to gain experience working in a meteorological office, and it helped me to eventually acquire a position in the National Weather Service. After graduation, there was a tremendous amount of competition for the Meteorologist openings within the National Weather Service. It took me three years to be successful, and I was eventually hired as a Surface Analyst by the Hydrometeorological Prediction Center (HPC) in 2001.
How long have you been a Meteorologist or Marine Forecaster?
I have been a Marine Forecaster for about 11 years now. I applied for an entry level Meteorologist position at the Ocean Prediction Center (OPC) late in 2002 while I was still a Surface Analyst at the HPC, and I was hired by the OPC in the first quarter of 2003.
What is your title and what are your duties?
Technically, my title is, "Meteorologist," but I am more specifically a Marine Forecaster. I have a multitude of functions assigned to me related to weather forecasting and analysis. I started out as a Surface Analysis at the HPC (now WPC), and that is where I learned the basics of creating a surface chart. I also learned the basics of creating a forecast chart using numerical model guidance. I brought that experience with me to the OPC, and I expanded on it by focusing on ocean weather.

In addition, I am responsible for creating the Offshore and High text forecasts. The Offshore Forecasts were formerly typed out by hand, but we have recently started using the Graphical Forecast Editor (GFE) to produce the Offshore forecasts. We still type out the High Seas forecasts manually, I have other duties assigned to me when I am not working a forecast desk. I am one of the assistant web masters, and I create and modify web pages as needed. One of the more ambitious pages that I created was the Product Loops. It allows a user to put the forecast and analysis charts in motion.

I also respond to questions from webpage users. This relates to another duty I have which is the Social Media Group. I occasionally make posts on the OPC's Twitter and Facebook pages. It can be a lot of fun.

I am also one of the GIS Focal Points. I have written scripts that automatically generate KML files that can be found on the experimental GIS page on the website. In addition, I also work on special projects for the Ocean Applications Branch (OAB).
What's one of the best things you like about being a Meteorologist?
My favorite thing about being a Meteorologist is observing extremes. Whether it is a very high wind or wave height report from a buoy, record snowfall over the local area or even an extremely low temperature over somewhere like Siberia, I find it interesting to observe a weather-related extreme.

I also enjoy situations where the forecast is on the border between two warning categories. I like the challenge of going through the models in order to determine which warning to issue. It's rewarding when it turns out to be correct.
What's your favorite part of the job?
I think that working with the other forecasters at the OPC is the best part of the job. We have a real dedicated staff here, and I've gotten to know everyone fairly well after years of working with them. It can be real fun at times. Also, everyone is very professional about their job, and they are all very interested in the weather. It makes for a great work environment.
What's the hardest thing about being a Meteorologist?
The most difficult part of the job is getting a forecast out on time when you are unsure of the forecast and the models are inconsistent and in poor agreement. When the models do not give you much help, you have to go with what you know and try to come up with the best possible forecast. It's a little hard to watch when you put a large amount of effort into a forecast, and it doesn't turn out as well as you had hoped.
What's the best thing about being a Meteorologist?
The best thing about being a Meteorologist is being able to watch weather events occur in real time. When a weather event moves into my area of responsibility, it's even better because I'm able to make a forecast for it. It can be very rewarding to watch a forecast verify when you put in a large amount of effort into it, and it was a difficult forecast to make.
When it comes to weather what's your favorite aspect?
Tropical weather can be interesting, but I find that rapidly intensifying extratropical lows to be the most intriguing. It can be fun to watch the changes in the models from day to day when a strong low is forecast in the extended period. I like to observe 20+ millibar differences between different model solutions resolve themselves as an event moves into the shorter term.
Personally do you have an exciting weather story to share?
I have two somewhat interesting experiences. The first one happened when I about ten years old. While growing up, my parents would take us on cross country road trips. During one of those trips, we drove through an area with severe thunderstorms while crossing one of the Plains states. In the distance, we saw a few tornadoes. They looked fairly ominous, and were creating large dust clouds. I wanted to get a closer look, but my parents wanted nothing to do with them. My father made the wise choice to stay on the route that kept us far away from them. Although we never got close, it was an interesting experience to see that in real life.

My other experience happened when I was in my twenties while driving on the Long Island Expressway in New York. Again, I was going through an area with severe thunderstorms. I was about a quarter of a mile away from a railroad bridge that the highway went underneath when lightning struck the bridge. Sparks flew everywhere from the tracks, and cars ahead of me began to swerve. Luckily, I was able to avoid an accident, but it felt like my hair was standing up on end. That experience left a big impression on me. From that point on, I became a little nervous when I went under that bridge during thunderstorms.
Where do you see the field of Meteorology going in the future in terms of forecasting, technology etc.?
Numerical weather prediction has always moved toward higher resolution models with increased computing power. I think that trend will continue, and forecasts will become more accurate. Also, the modelers are constantly improving the physics behind the models, so that will contribute to improved accuracy as well. I think that National Weather Service forecasts will probably be extended further out in time as a result of the improvements.
What's on your wish list?
I would like to see more data over the oceans. There aren't many observations over the oceans, especially as you go further offshore. Anything that allows us to get a glimpse of what is going on out there is enormously appreciated. For example, scatterometer winds help us greatly with determining warning criteria. It also helps us determine the positions of lows, highs and fronts. If the frequency of the scatterometer passes were increased, it would result in improved forecasts and analyses.
Outside of the office what are some things you like to do in your spare time?
I generally enjoy spending time with my family. We like to go to the movies every now and then, and we also like to dine out. Our favorite vacation spot is the Outer Banks of North Carolina. We'll normally go there once a year to enjoy some time at the beach. I also like to read.

In addition, I like going to watch sporting events. It's a lot of fun to go to Camden Yards on a warm summer night and take in a baseball game with the family. I primarily follow professional football and baseball. Despite being in Maryland for more than 10 years now, I still root for the New York teams. I grew up watching them, and my allegiance has not changed.
View all stories in "Get to Know OPC"