Analysis & Forecast

Weather
Ocean
Ice & Icebergs
Other Hazards

Data

Digital Forecasts
Electronic Marine Charting (ECDIS)
Environmental
Extratropical Storm Surge Models
Freezing Spray
GIS
Observations
Ocean
Past Weather
Probabilistic

Information

Product Information
Receiving Products
About OPC

News

Search
| | |
| --- | --- |
| Hurricane Warnings in Effect | Atlantic: High Seas |
Get to Know OPC - Matthew Glazewski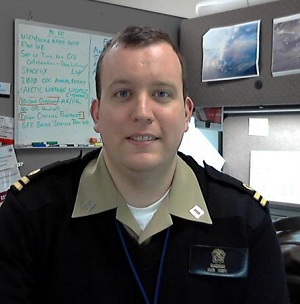 Matthew Glazewski
Technical Operations Coordination Meteorologist, Ocean Applications Branch
Ocean Prediction Center
Where did you attend college?
I received my B.S. in meteorology and minor in English from the Pennsylvania State University in University Park, PA in 2005. I have also completed some graduate coursework at the University of Maryland, College Park.
What is your title and what are your duties?
My title is "Technical Operations Coordination Meteorologist". I work in the Ocean Applications Branch of the OPC, where I support the senior management in a staff officer role, liaise with NWS Headquarters, and other Federal agencies as a program manager and office representative. I also act as an assistant Science Officer, coordinating training opportunities and technical research applications to operations. Additionally, I also perform select Warning Coordination duties, such as organizing and overseeing the OPC's national outreach program. Basically, I am a jack-of-all-trades here, and I love it!
When & how did you get hired by OPC?
As a NOAA Commissioned Corps officer, I can work for any line office within NOAA. The position at OPC that I serve in had been recently created when I was due to rotate from my assignment at the time, so I made the necessary applications through inside channels to get this assignment – and here I have been, since May of 2008! My time is almost up, however, and another officer will be rotating into this job in October of 2012.
Are you yourself a mariner?
Yes, I worked aboard the NOAA Ship Fairweather for 2 and 1/2 years. Fairweather is a hydrographic survey ship – that is, its mission is to chart the sea floor and coast for the updating of nautical charts. Mariners use nautical charts to navigate the oceans much like people on land use maps to navigate road systems.
Do you have an exciting sea stories to share?
Before working at the OPC, as I mentioned above, I was a deck officer aboard a NOAA research vessel, the Fairweather. I used OPC products while at sea in the North Pacific, and once, when transiting from Alaska to Seattle, we encountered some very large seas in an area off the coast of British Columbia. 28-foot waves crashed into the bow of the ship, rolling us significantly – at one point, a wave blew in a porthole in a stateroom, flooding it with salt water!
What's your favorite aspect of weather?
Over the last few years, I have become particularly interested in Arctic Ocean meteorology. I have been on two trips with the US Coast Guard in the Arctic, and have helped NOAA write a strategic planning document on the agency's future plans for work in the region. The decline of Arctic sea ice and how the ocean surface interacts with the atmosphere in the region is a new area of science that is particularly interesting and relevant for the future of the area.
When you leave work, do you still find yourself checking the weather from home or are you able to leave it at the office?
Like most people in our profession, I am a weather weenie. I check the weather incessantly when I am at home or on my smartphone. Then, when interesting weather approaches, it's fun to geek-out with my fellow meteorologists about what might happen!
Outside of the office what are some things you like to do in your spare time?
I really enjoy outdoor activities when the weather is nice. I live on a hike-bike trail, so I enjoy taking my bicycle out for 20-50 mile rides on weekday evenings and weekends. I also have a 10 foot kayak that I like to take out onto Bull Run in Virginia for paddles as often as I can. It's a bit geeky, but I run a strategy board game group that meets every Friday in the DC area as well. It's a lot of fun!
View all stories in "Get to Know OPC"