Analysis & Forecast

Weather
Ocean
Ice & Icebergs
Other Hazards

Data

Archive Data
Digital Forecasts
Electronic Marine Charting (ECDIS)
Environmental
Extratropical Storm Surge Models
Freezing Spray
GIS
Observations
Ocean
Probabilistic

Information

Product Information
Receiving Products
About OPC

News

Search
Role of the Ocean Prediction Center in Supporting the Recovery Effort for EgyptAir Flight 990
Shortly after the crash on October 31st 1999, meteorologists from the Ocean Prediction Center (known then as the Marine Prediction Center [MPC]) were deployed to the Recovery Task Force Command Center on Pier 2 in Newport, Rhode Island. They teamed up with a Navy meteorologist to determine the specific weather needs of the National Transportation Safety Board, Coast Guard, Navy, Federal Bureau of Investigation, Public Health Service, and ships of the recovery effort, including NOAA's WHITING.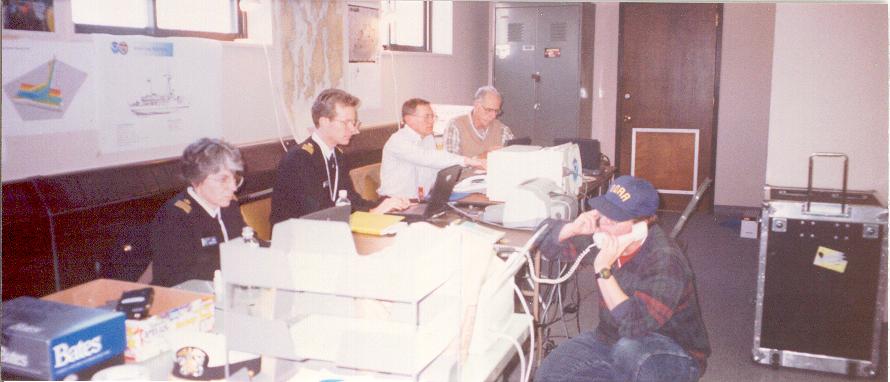 The Egypt Air 990 NOAA support team at work. Sitting from left to right: LCDR Emily Christman, NOAA Corps, CDR Steve Barnum, NOAA Corps, Jim Hoke, Director of MPC, Dave Feit, Chief of Operations, MPC.
MPC provided on-scene, customized weather forecasts and graphics for the search area to these organizations. The MPC and Navy meteorologists at the RTF were supported by a team of weather specialists working around the clock at MPC's home at the National Centers for Environmental Prediction in Camp Springs, Maryland, and the Naval Atlantic Meteorology and Oceanography Center in Norfolk, Virginia. As the recovery efforts moved into a more protracted phase after the "black" boxes were recovered, the MPC on-scene meteorologist rejoined the Camp Springs staff, which continued to provide the Recovery Task Force with tailored forecasts in support of recovery operations through November 19, 1999. After that time MPC staff remained on call to assist the Recovery Task Force as needed.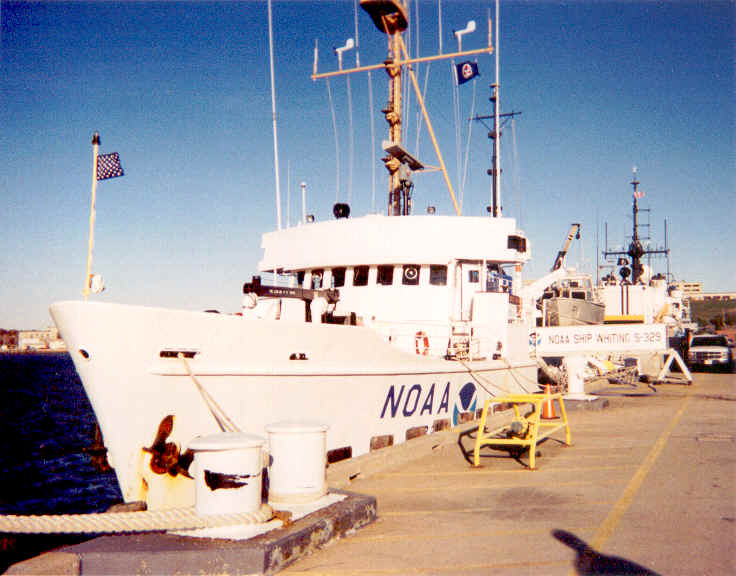 The NOAA ship Whiting preparing to deploy from the dock at Newport, RI. MPC forecasts allowed recovery vessels such as the Whiting to make the 10 hour trip back to port for resupply, crew rest, and equipment repair during periods of high seas.
Marine forecasts of wind speed and wave height are of extreme importance during search and recovery efforts. Weather conditions at sea usually differ greatly from conditions on land. A NOAA weather buoy at the edge of the search area provided invaluable data during this time. Other observations were drawn from NOAA and DoD satellites, commercial ship volunteer weather observers, and the recovery vessels themselves. NOAA and Navy forecasts of favorable weather windows enabled ships to be on the scene and ready to operate whenever breaks in bad weather conditions allowed recovery operations to resume.