Analysis & Forecast

Weather
Ocean
Ice & Icebergs
Other Hazards

Data

Digital Forecasts
Electronic Marine Charting (ECDIS)
Environmental
Extratropical Storm Surge Models
Freezing Spray
GIS
Observations
Ocean
Past Weather
Probabilistic

Information

Product Information
Receiving Products
About OPC

News

Search
| | |
| --- | --- |
| Hurricane Warnings in Effect | Atlantic: High Seas |
Get to Know OPC - Paul Vukits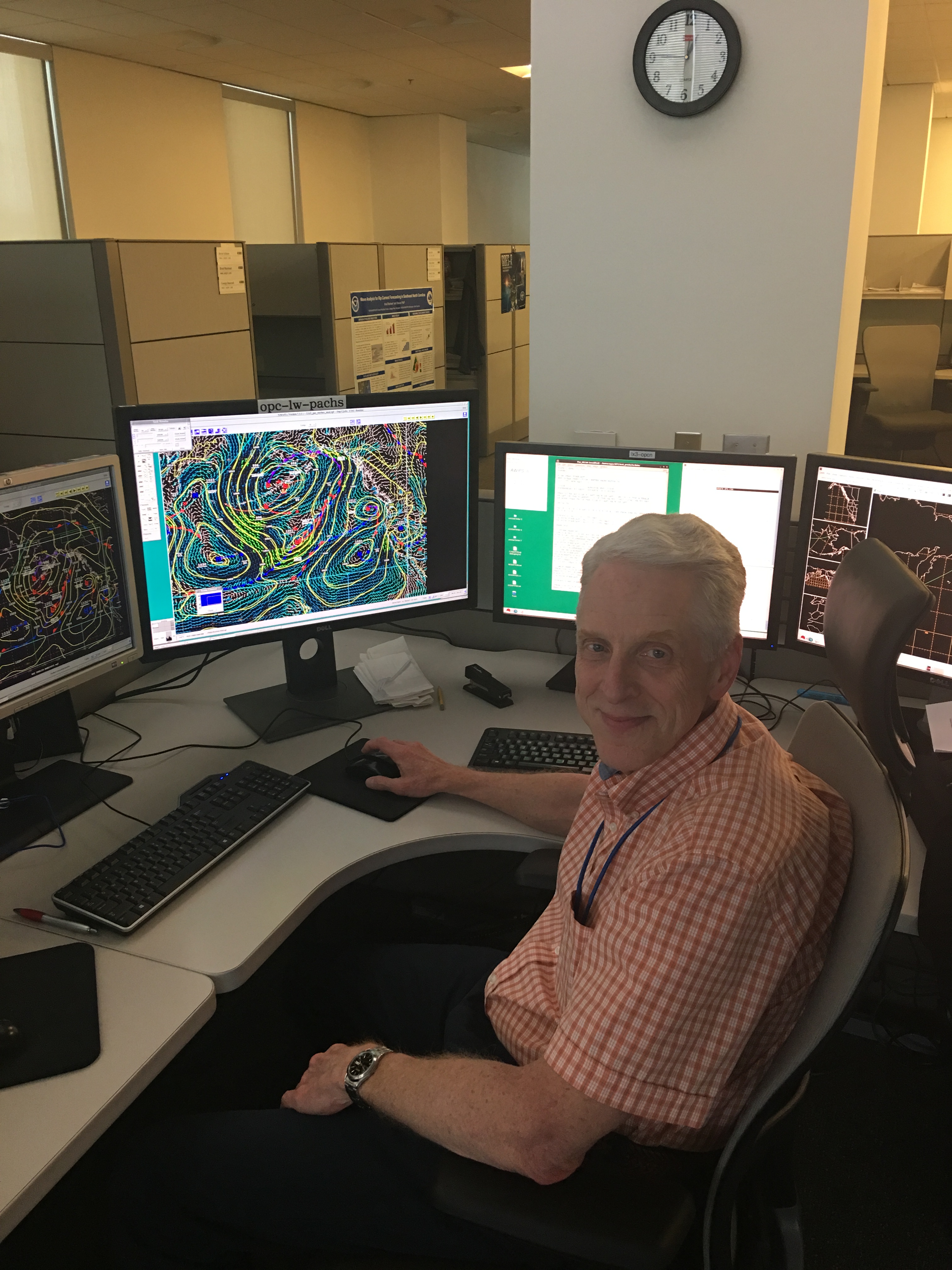 Paul Vukits
Senior Marine Forecaster
Ocean Forecaster Branch
Ocean Prediction Center
What first got you interested in the weather?
Growing up along the west coast of lower Michigan, I was fascinated by its changeable weather, especially the lake effect snow in the Winter.
Which college did you attend, and what was your major field of study?
I graduated from The University of Michigan in 1980.
How long have you been a Meteorologist or Marine Forecaster?
For 37 years, of which 33 years has been spent doing primarily marine forecasting.
Have you worked as a Meteorologist outside of the National Weather Service?
Yes, I began my career working in the private sector for four years at the Institute for Storm Research in Houston, TX forecasting primarily for the oil industry and then two years at the Master's Weather Center in Annandale, VA providing weather routing services to commercial shipping lines. I then spent four years as the civilian meteorologist and then supervisor for the Department of the Army Yuma Proving Ground Meteorological Team in Yuma, AZ.
When and how did you get hired by OPC?
1989. My background in the private sector doing marine forecasting led to my hiring.
What was your entry level position?
In federal government, I started as a GS-11.
Have you worked as a Meteorologist in another office within the National Weather Service?
No.
What are your duties and responsibilities at OPC?
As a Lead Forecaster, I supervise over the daily shift operations of the OPC. My daily forecast responsibilities include producing a suite of analyses and forecast charts and a series of High Seas and Offshore text forecast products.
What are the best things you like about being a Meteorologist?
Taking ownership in putting in your best effort to make the best forecast products possible, and then seeing them verify. I also like the day-to-day variability of the weather. No two days are the same.
What's one of the best things you like about working for the OPC & the NWS in general?
It is rewarding to provide analysis and forecast products that you know protect lives and property.
What's your least favorite part of the job?
Being wrong.
How do you handle shift work?
Not as well as when I was younger. That's why I plan on retiring in 2017.
When you leave work after you shift do you still find yourself checking the weather from home or are you able to leave it at the office?
On occasion, especially if I forecasted for a severe event.
When it comes to weather, what's your favorite aspect?
Severe storms.
Do you have a personal weather experience to share?
My most interesting forecasting experience in my career was working as the on-site meteorologist on board the jack-up exploratory oil rig InterOcean II under contract with Shell BP from 1980-1982. I was on the rig when Argentina invaded the Falkland Islands in April 1982. I then spent 60 days, instead of the normal 28 days, on board as the rig was towed up to Rio de Janeiro harbor. After the war, I spent late 1982 into early 1983 working in the city of Rio Grande, Argentina forecasting for the oil rig Rio Colorado under contract with Total Oil offshore the Strait of Magellan. Hurricane force winds were a common experience off Tierra del Fuego. One hurricane force storm remarkably twisted the heading of the InterOcean II by five degrees. In March 1983, I made a forecast of 80-100 KT, gusting to 120 KT for a storm that I feared would sink the Rio Colorado, which was being moved to a new location. Fortunately I gave enough warning that the rig, with her 44 crew members on board, was able to be safely towed in San Sebastian Bay to find shelter so that no major damage occurred.
Where do you see the field of Meteorology going in the future in terms of forecasting, technology etc.?
I'm afraid like in the Terminator movies, I foresee the bulk of forecasting in the future being done by the machines. In particular, by computer models and editors with no human intervention then required.
Outside of the office what are some things you like to do in your spare time?
I enjoy almost all sports. In my advanced age, I still partake in playing softball. I also golf and bowl. I enjoy travelling, in particular golf trips, and I enjoy going to casinos. I enjoy going to the movies and I also have impressive comic book and coin collections.
View all stories in "Get to Know OPC"